About RoboTIC4HUMANS Erasmus+ Project
The robotics project brings together 4 countries and will last 2 school years, plus a time for synthesis, reporting and administrative closure. Four workshops will take place in 2023 & 2024.

Robotics is the pedagogical support of this project, but it is only a pretext to allow young people from 4 different countries to have to solve exercises jointly and by the same, to discover habits, ways of reasoning and the culture of other European countries. The fact of being able to carry out these workshops in 4 different countries is also a real opportunity to discover other countries firsthand and for some students sometimes to make their first trip outside their region of origin, if not outside the country. The project is also a real opportunity to have to express oneself in everyday life in English, to take advantage of a context outside school life of the skills acquired in English.
Participating Organisations
Digital Transformation
Addressing digital transformation through thedevelopment of digital readiness, resilience andcapabilities
Vocational education
Adapting vocational education and training to the needs of the labour market
Increase opportunities
Increase the flexibility of opportunities in vocational education and training
Three themes addressed by project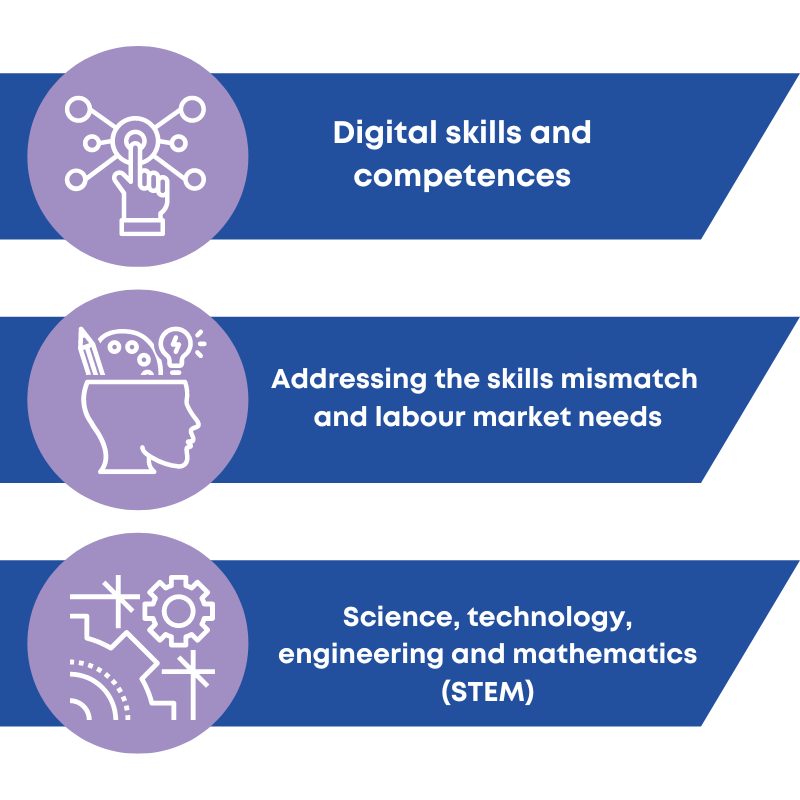 Introduction to robotics through various means of communication
 

Demystification of robots (identification of limits)
Discovery of the life cycle of a robot (needs indentification, design,manufacture, programming, use, maintenance, destruction, recycling)
To enable a better understanding of mathematics
Promotion of science by favouring vulnerable groups and ensuringinclusion and equal opportunities
To master computer tools and improve young people's computer literacy
To develop critical thinking skillsImproving the quality of learning materials for young people
Developing

innovative teaching tools
Promoting entrepreneurial and soft transferable skills
Equiping young people with the tools before they find themselves on thejob market, taking into account the digital transition
Opening up to "international" skills, such as productivity, curiosity andresilience